the american dream is dead
by Hannah Kymila Bär von Fetan
Niels Kantor opens the doors of his private gallery-estate in Los Angeles for Shelter Serra's solo show "USA Today."
The American dream is dead: "USA Today" by Shelter Serra
by Hannah Kymila Bär von Fetan
Niels Kantor opens the doors of his private gallery-estate in Los Angeles for Shelter Serra's solo show "USA Today."
Shelter Serra rises like a phoenix out of our post-American Dream apocalypse as his solo show opens its doors at the private gallery-estate of Niels Kantor in Los Angeles, CA. The exhibition "USA Today" opened this past week at Kantor Gallery and runs through August 17th, 2018.
Serra's perspective and aesthetic come together for a solo exhibition of the artist's signature cultural satire, with a "pop"-tivist twist. With the support of eponymous American collector Niels Kantor, the bourgeoning contemporary artist is able to cut through the iClouds and make a statement on American culture, as we all watch our false idols fall.
Diplopian visions of Disney castles are juxtaposed with up-side down American Flag renderings; Serra captures our nostalgia for the promises of youth while simultaneously breaking our hearts with the ease of a well-practiced swish shot.
Easy Rider (2017), an homage to Evel Knievel and the Americana motif of the exhibition ties the subject matter of this show to Serra's known body of youth-culture musings. The viewer is confronted with classic promises of adrenaline-rousing success and forced to reconsider this American Dream against the coarse realities that cycle throughout our televisions, laptops and smartwatches.
The darkness in the work is not pure cynicism, as a glistening sense of the artist's sense of humor life flows playfully throughout the show as he draws upon these public truths. Growing up in a leftist political family and creative community in Bolinas, CA, Shelter Serra is no stranger to politically charged debate or anarchism. Therefore, he is able to take a step back from the negative charges of the Fake News Media and put a sense of visual optimism to the subject matter. This too shall pass; or, if it endures, then at least we have The Summer of Love (2018) to fall back on.
Layers are both proverbial and literal with Fence No. 1, No. 5, No. 6 and No. 7 (2018), as Serra paints a grim picture of a series of chain link fences using hyper-colored polymer paints. The multiplicity of meanings are plentiful: inner-city trimmings turned high art, with a palette recalling "Lucy in The Sky." The highlight of the exhibition is the tension between the truths, lies and positive vibes.
Shelter Serra is an art world insider — yes, he is Richard Serra's nephew and the two work together regularly — but with this show, his name obeys his work.
The exhibition "USA Today" at Kantor Gallery is open by appointment only (July 6 - August 17th, 2018); for viewings contact: info@kantorgallery.com.
@hannahvontefan // Art Editor, No. 3 Magazine
Shelter Serra
48 x 36 inches
Oil on Canvas
Shelter Serra
48 x 36 inches
Oil on Canvas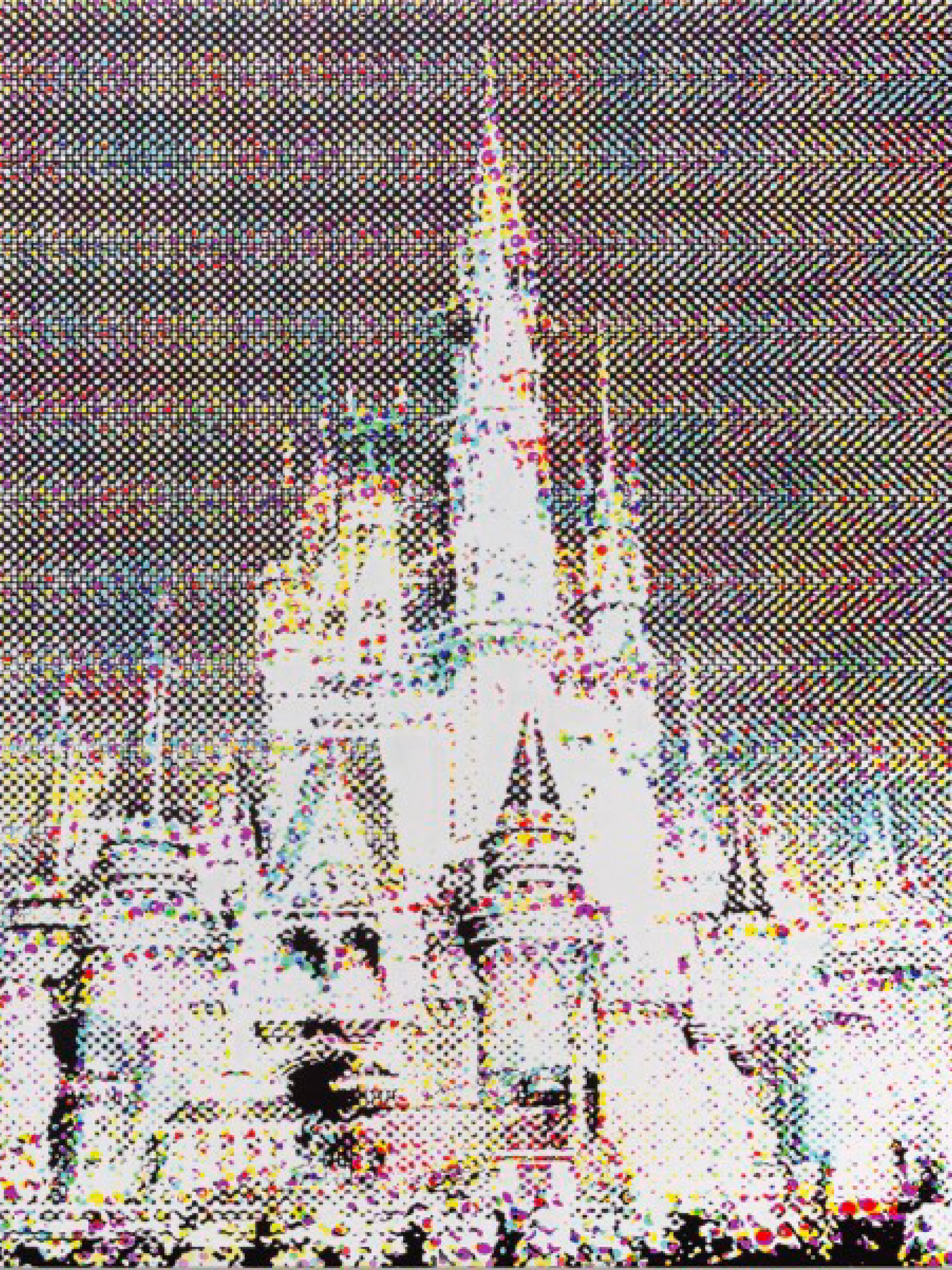 Disney Castle,
The Summer of Love (2018)
Shelter Serra
41 x 34 inches
Archival ink/paint on canvas