Tasmania's Hidden Gem
BY Olivia Durst I Lifestyle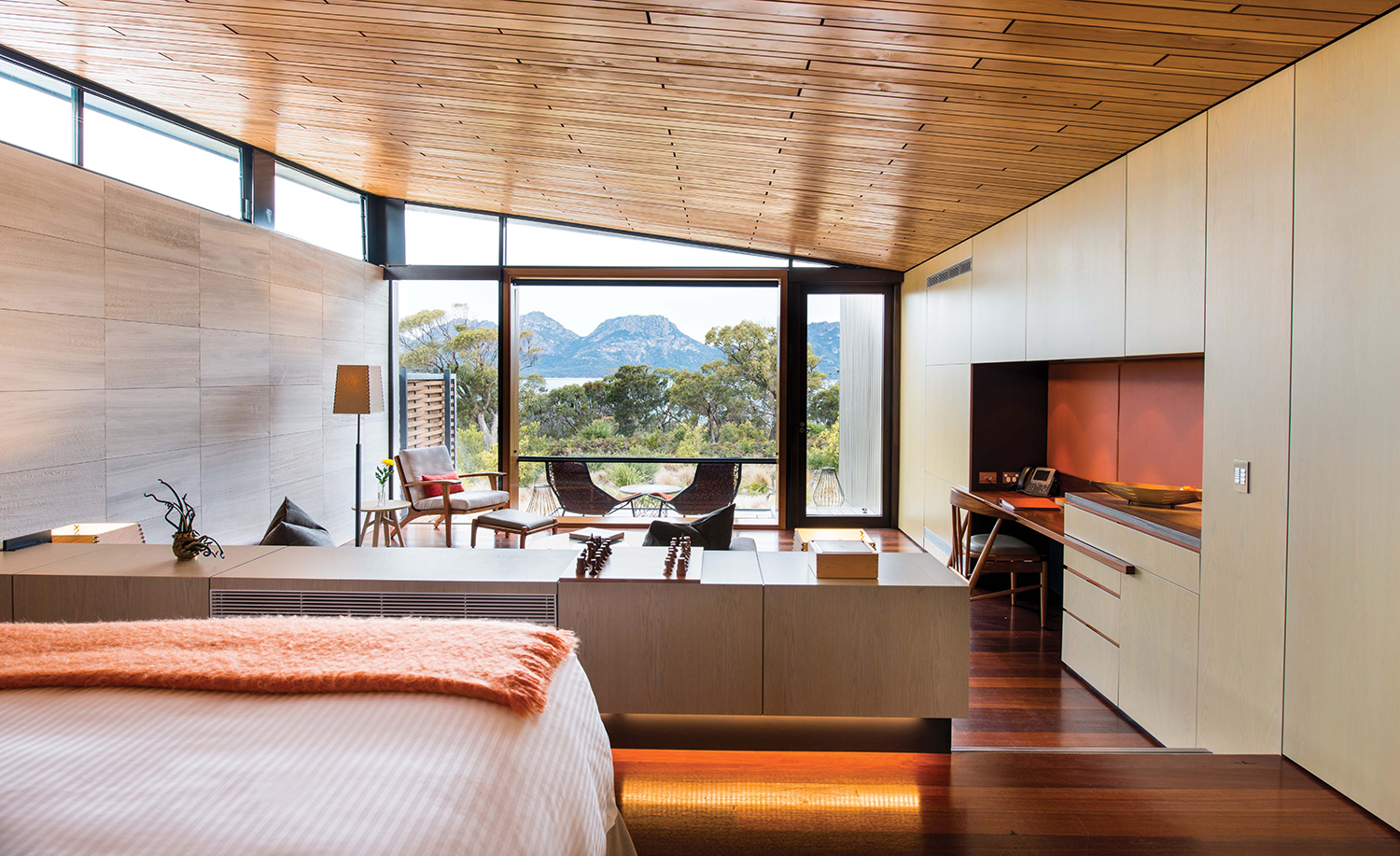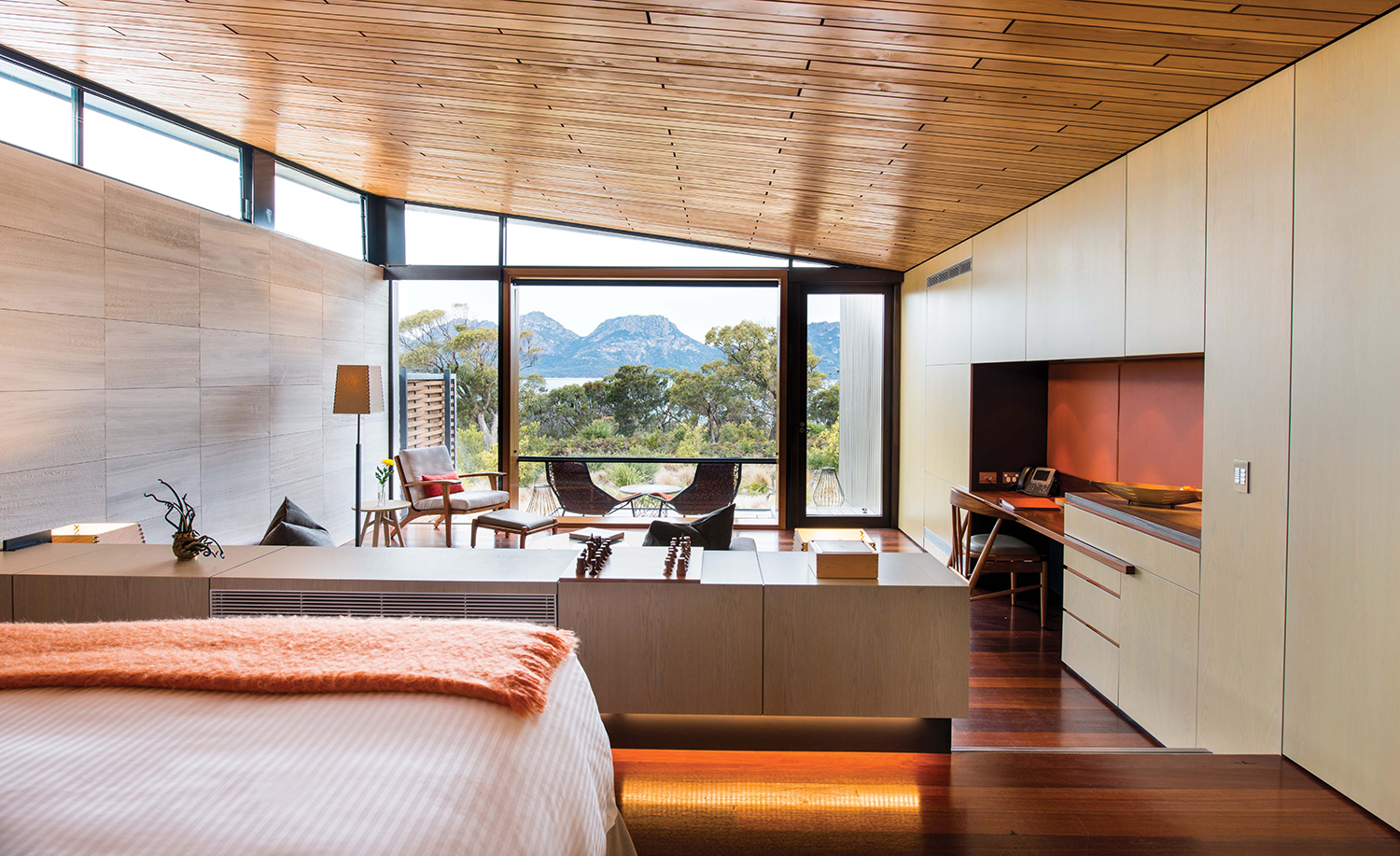 Raw Magic Beauty
Tasmania's Saffire Freycinet
By Olivia Durst
In a pocket of pristine wilderness, at the southern tip of Australia, Tasmania's Freycinet National Park is home to some of the cleanest air and water in the world, with internationally acclaimed coastline, unparalleled landscapes and produce that is envied the world over. Most recently, it became home to what is arguably one of the best boutique hotels in the world; one with bountiful surroundings combined with a class and sophistication second to none.
Once merely a hidden gem on the map, Australia's island state is now setting a new standard in luxury accommodation. Saffire Freycinet is an intimate, 20-suite luxury lodge completed in 2010 by multi award-winning Tasmanian architect Robert Morris-Nunn and his partner Peter Walker. The driving concept of the $32 million development was to seamlessly connect the lodge with its surrounding environment, and to protect the site by sympathetically interpreting its unique qualities.
Saffire finds its inspiration in the colors and textures of the surrounding peninsula incorporating local products, designers and natural materials such as timber, stone and leather into much of its exterior and interior design. The buildings themselves are conceptually organic: the suites present like the gentle waves of Great Oyster Bay, while the main building's roofline frames the peaks of the majestic Hazards Mountain range – an uninterrupted view from every window. The granite mountains shift from pink to violet to blue-grey, depending on the light, offering an ever-changing backdrop and a comforting sense of solitude and privacy for guests.
Its deference to the environment gives Saffire an integrity that would appeal to the most discerning traveller. Efficient water and lighting together with natural cycle air-flow systems combine with the lavishness of floor-to-ceiling, double-glazed windows in every suite and pavilion (the latter with plunge pools), private decks with spectacular views, marble bathrooms and mini-bars stocked with the finest Tasmanian produce, wine and whisky… all complementary.
Perhaps what really sets Saffire apart is the superb food and wine produced at its doorstep, delivered by renowned Australian chef Hugh Whitehouse. The east coast of Tasmania has long had an enviable reputation for premium aquaculture and agriculture, and its Mediterranean-like climate also produces crisp, cool-climate wines of international acclaim.
Gaining international attention for its innovative yet simple approach to food, Palate at Saffire Freycinet delivers the best in premium local produce. Seafood plucked straight from the waters of Great Oyster Bay, succulent grass-fed meats, seasonal fruit and vegetables –are all chosen daily by Whitehouse's team. Guests are welcome to create personalized dining options, and even to summon their own private chef directly to their suite!
But perhaps you'd prefer to don a pair of waders and shuck oysters straight from the bay yourself, accompanied by a glass of Tasmanian sparkling wine. You could visit Saffire's open-range Tasmanian Devil enclosure and learn about the now endangered species and the efforts to save it. Maybe a guided walk to Wineglass Bay (regularly heralded as one of the world's best beaches), wine tasting, canoeing, archery or mountain biking is your preferred past time. The list of Saffire's complimentary "experiences" goes on, and all are quintessential to the area. This is a truly special destination, a class above the rest.