Interview MAGAZINE lives on: 'FAME'
by Hannah Kymila Bär von Fetan
With Interview's May 2018 passage to the heavens, Jeffrey Deitch's latest curatorial feat, a Retrospective of Richard Bernstein's original Cover Paintings entitled 'FAME' pays homage to the glitterati era at storied SoHo space. [7 SEPT - 27 OCT 2018]
23 AUGUST 2018 | New York, NY
Warhol's Interview magazine lives on: 'FAME' [7 Sept - 27 OCT 2018]
by Hannah Kymila Bär von Fetan
The legacy of Interview magazine lives on with Jeffrey Deitch's latest curatorial feat 'FAME' at his storied SoHo space, Jeffrey Deitch Gallery [76 Grand Street]. Cover artist and Warhol collaborator, Richard Bernstein is honored with a tremendous display of sixty original Cover Paintings alongside the September 4th, 2018 release of the book, Richard Bernstein: STARMAKER by Roger Padilha and Mauricio Padilha, published by Rizzoli.
Timing is everything, and this Bernstein Retrospective will honor the artist's legendary cover creations for the first time since a show took place in 1993-94 at Parson's School of Design Art Gallery. With Interview's May 2018 passage to the heavens, 'FAME' pays homage to the glitterati era of creative ingenuity that represents the cornerstone of Pop Art and American Culture.
Considering photo-based imagery, Andy Warhol was quite clear, stating, "My idea of a good picture is one that's in focus and of a famous person." As the public upholder of the magazine's face, Richard Bernstein was Warhol's most trusted creationist. His work embodied everything that Warhol worshipped: fame, excess, fearless use of color and imaginative materiality. Bernstein utilized airbrush, Wite-Out, pencil & collage in his masterful reimaginations of the celebrities whom he had photographed, sometimes enlisting the help of friends Bill King and Berry Bernstein to capture the stills. Working out of the ground floor quasi-nightclub "Ballroom" space of The Chelsea Hotel, Bernstein lived his art and created the works in the show over the course of seventeen years with the publication. He resided at The Chelsea until his death in 2002, and many of the works are unseen to the public, as they hung in their original state in the ballroom until his passing. Despite the efforts of Princess Gloria von Thurn und Taxis, et al.; we were not able to successfully "Save The Chelsea Hotel" entirely, but Bernstein and Warhol would have applauded the efforts to preserve its artistic prowess for eternity.
Nonetheless, art world sovereign Jeffrey Deitch captures The Warhol Factory - Studio 54 epoch in this exhibition by enlisting friends and Bernstein family members to showcase this grand display of the artist's cover art and more. Several lesser known pieces ranging from throughout Bernstein's career will be displayed in the show alongside his Cover Paintings, including a portrait of the Kennedy Brothers in front of an American Flag.
RICHARD BERNSTEIN RICHARD BERNSTEIN RICHARD BERNSTEIN
Mariel Hemingway (April 1982) Elizabeth Taylor Rob Lowe (May 1984)
The clear source of inspiration for Gagosian Gallery's 'most-wanted' artist Richard Phillips, Bernstein's signature Hypertone Portraits are the definitive mark to a stylized and graphic visual language rooted in Pop Art that has carried on for 50 years from the start of Interview magazine in 1969 through to today.
A New Yorker through and through, Richard Bernstein was born in 1939 in New York City, studied at Pratt Institute and received an MFA from Columbia University. He was a star unto himself and a fixture in the arts, a one-man media genius whose paintings are sure to be collected with the same vigorous obsession that sparks celebridom.
Richard Bernstein's 'FAME' at Jeffrey Deitch [76 Grand Street] will run from September 7th to October 27th, 2018. The book Richard Bernstein: STARMAKER by Roger Padilha and Mauricio Padilha, published by Rizzoli will be released at the exhibition as well. For further inquiries contact 212.343.7300.
@hannahvonfetan // Art Editor, No.3 Magazine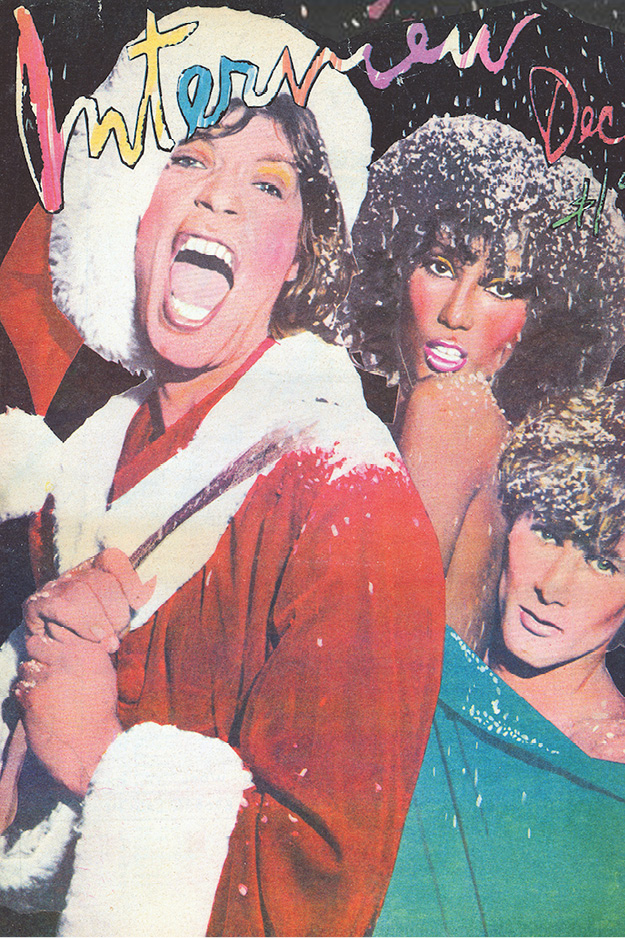 Mick Jagger, Iman & Paul Van Ravenstein
RICHARD BERNSTEIN
December 1977